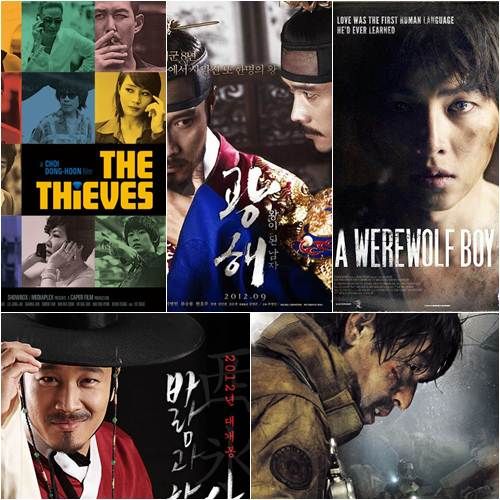 During 2012, at least there were 5 Korean Movies that you shouldn't miss. Some of them had been screened on theater and successfully raked over 10 million of Admissions.
Note: These movies are based on my personal reference including the amount of movie-goers that surpassed 3 million for the movies that had been on theater. Some of you may have difference opinion regarding the topic.
Here is the movie list:
1. The Thieves aka professional (Dodukdeul; 2012)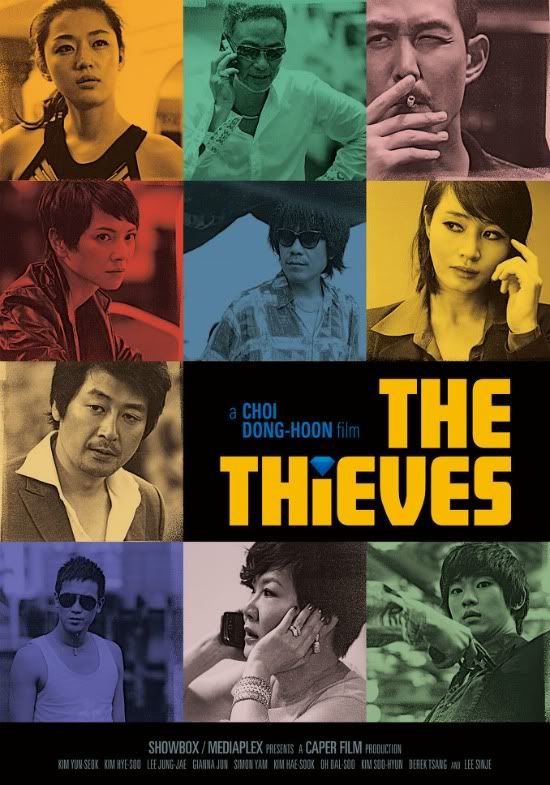 Synopsis:
Five professional thieves who would not accept any kind of mistake receive a proposal from Maao Park, a boss from the past, and steal 'a Tear of the Sun', an extraordinary diamond, with four other Chinese thieves.
In order to let things cool down from their latest heist, Popeye and his group of thieves go to Macao on a job. But the mastermind behind this job is none other than Popeye's old partner Macao Park, who escaped with 68kg of gold several years ago on their last job together. Macao Park brought Chinese thieves as well but little did they know what Macao Park planned for each one of them. But his plan takes an unexpected turn when Popeye brings Pepsi, an old flame of Macao Park, to settle the old score. The thieves' target is a $20 million diamond known as 'Tear of the Sun', kept safely away in a casino, brought there to be sold by a notorious Chinese fence. While working together to steal this fabled diamond, they all have their own agenda to keep the diamond for themselves. Bur who will succeed and live to see another day?
Genre: Crime / Action / Heist /
Writer : Choi Dong-hoon , Lee Gi-cheol
Director : Choi Dong-hoon
Cast
Kim Yoon-suk (Macao Park)
Lee Jung-jae (Popie)
Kim Hye-soo (Pepsee)
Jun Ji-hyun (Yenicall)
Simon Yam (Chen)
Kim Hae-sook (Chewingum)
Oh Dal-soo (Andrew)
Kim Su-hyeon (Zampano)
Record: Best Selling South Korean film (12,983,182 Total Admissions)
Trailer:

Source: KMDB
2. Masquerade (Gwanghae, Wangi Doen Namja; 2012)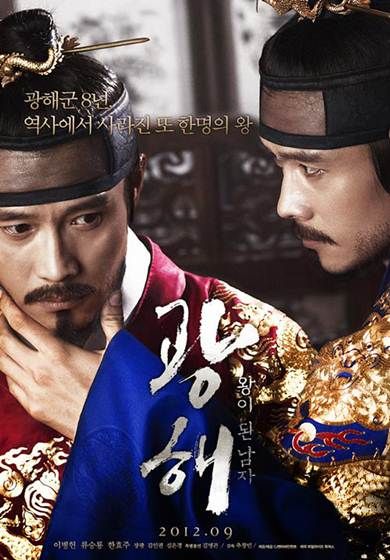 Synopsis:
During the confusing and conspiratorial Joseon Dynasty, King Gwang-hae orders his councilor, HEO Kyun, to find him a double in order to avoid the constant threat of assassination. HEO Kyun finds Ha-sun, a jester who looks remarkably like the king, and just as feared, Gwang-hae is poisoned. HEO Kyun proposes that Ha-sun fill the role as the king until Gwang-hae recovers fully and grooms Ha-sun to look and act every bit like him. While assuming the role of the king at his first official appearance, Ha-sun begins to ponder the intricacies of the problems debated in his court. Being fundamentally more humanitarian than Gwang-hae, Ha-sun's affection and appreciation of even the most minor servants slowly changes morale in the castle for the better. Over time he finds his voice and takes control of governing the country with real insight and fair judgments. Even HEO Kyun is moved by Ha-sun's genuine concern for the people, and realizes he is an better ruler than Gwang-hae. However, his chief opposition, PARK, notices the sudden shift in the king's behavior and starts to ask questions.
Genre: Period-17th Century / Drama /
Director : Choo Chang-min
Writer : Hwang Jo-yun
Cast
Lee Byung-Hun (King Gwanghae)
Lee Byung-Hun (Clown Ha-Sun)
Han Hyo-Joo (Queen)
Ryoo Seung-Ryong (Heo Gyun)
Record: 12,318,850 Total Admissions
Trailer

Source: KMDB
3. A Werewolf Boy (Neukdae Sonyeon; 2012)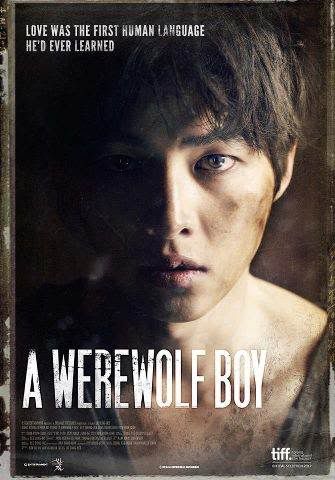 Synopsis:
Summoned by an unexpected phone call, an elderly woman visits a cottage the way she used to when she was a young girl. She remembers a boy she knew half a century before. Moving to a peaceful village when she was a girl she discovered a "wolf boy," hiding his large, contorted body in the darkness. The girl, now a woman, has never been able to purge the images of his wild eyes and animal-like behavior from her mind. She recalls teaching the boy how to wait patiently before a meal, how to wear clothes, how to speak, how to write and other human behaviors so that he could one day live like a normal man. She opened her heart to the innocent boy and he fell in love with the girl, the only person to ever show him affection. However when threatened, he let loose his bestial instincts and became the subject of the villagers' fears. In order to save the life of the boy who risked his to be by her side, she left him with a promise: "Wait for me. I'll come back for you.
Genre: Romance / Fantasy
Director : Jo Sung-hee
Writer : Jo Sung-hee
Cast:
Song Joong-Ki (Chul-Soo) (wolf-boy)
Park Bo-Young (Soon-Yi)
Yoo Yeon-Seok (Ji-Tae)
Jang Yeong-Nam (mother)
Kim Hyang-Gi (Soon-Ja)
Record: All-Time Best Selling Romance Film in South Korean History (6,654,281 Total Admissions)
Trailer

Source: KMDB
4.The Grand Heist (2012)
Synopsis:
About 250 years ago in Korea, people struggle under the tyranny of the first vice-premier CHO who has taken possession of power and holds a commercial supremacy over 'ice', the most valuable commodity of the time. Unable to stand CHO's tyranny, LEE, an ingenious young man whose father was eliminated by CHO, gathers a group of experts in various fields; tactics, weapons, explosives, underwater diving, camouflage, etc. With their help, Lee executes his plans to rob the entire storage of ice that will be used for the crown prince's birthday party which will initiate CHO's downfall.
Genre: Period / Comedy / Action
Director : Kim Ju-ho
Writer : Kim,Min-seoung
Cast:
Cha Tae-Hyun (Duk-Moo)
Oh Ji-Ho (Dong-Soo )
Min Hyo-Rin (Baek Soo-Ryun)
Sung Dong-Il (Jang Soo-Gyun)
Shin Jeong-Keun (Seok Dae-Hyun)
Ko Chang-Seok (Hong Seok-Chang)
Song Jong-Ho (Kim Jae-Joon )
Kim Gil-Dong (Cheol-Joo )
Kim Hyang-Gi (Nan-Yi )
Cheon Bo-Keun (Jung-Goon )
Record: 4,909,937 Total Admissions
Trailer:

Source: KMDB
5. The Tower (2012)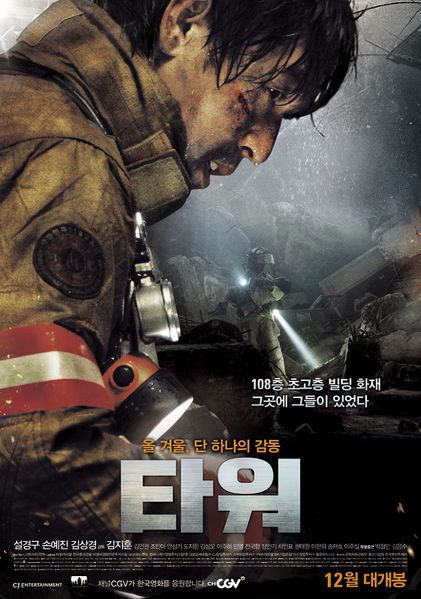 Synopsis:
Mr. JO is making plans for a "White Christmas" party for tenants and VIPs at Tower Sky, the super-luxurious landmark building complex he owns in Seoul. Part of the event will involve helicopters circling above, sprinkling snow on everyone below. Dae-ho, the single father and manager of the building, is an earnest employee liked by his colleagues and loved by his only daughter Ha-na. He has a secret crush on Yoon-hee, a restaurant manager but hasn't got the guts to tell her. Dae-ho has promised his daughter they would spend Christmas day at an amusement park together but the unexpected party plans hold him back. On Christmas Day, the party is in full swing with two helicopters spraying snow above Tower Sky. When one of the helicopters crashes into the building, a fire breaks out and spreads rapidly. Dae-ho is on the move trying to rescue Ha-na, Yoon-hee and his colleagues. At the same time, legendary firefighter Young-kee makes his way to Tower Sky, throwing himself into the burning building and bringing the blaze under control, helping Dae-ho in the process. Together they fight to save the lives of everyone around them?despite a simmering feud between the two men. One will survive, and one will make the ultimate sacrifice.
Genre: Drama / Disaster / Fire Fighter
Director : Kim Ji-hoon
Writer : Kim Sang-don
Cast:
Sol Kyung-Gu (Kang Young-Ki)
Son Ye-Jin (Seo Yun-Hee )
Kim Sang-Kyung (Lee Dae-Ho)
Kim In-Kwon (Oh Byung-Man)
Do Ji-Han (Lee Sun-Woo)
Park Cheol-Min (Chef )
Song Jae-Ho (elderly man Yoon)
Lee Ju-Sil (Madam Jung)
Kim Sung-Oh (In-Gun)
Lee Han-Wi (Church Elder Kim)
Cha In-Pyo (The tower owner Jo)
Jeong In-Gi (Director Jung)
Ahn Sung-Ki (chief firefighter)
Jo Min-Ah (Lee Ha-Na)
Record: Current Box Office (December 28 – December 30, 2012; 1,694,702 Total Admissions)
Trailer

Source: KMDB
Tags: A Werewolf Boy, Masquerade, The Grand Heist, The Thieves aka professional, The Tower