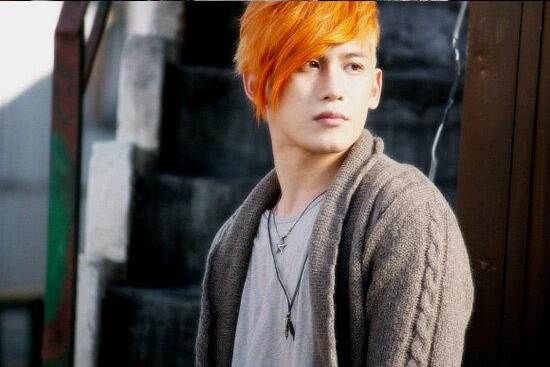 Ok, now we can see a glimpse the image stills from Park Gi-Woong in Upcoming Movie Secretly Greatly. Just to remember, Secretly Greatly young male North Korean spies who integrate into South Korea society. One of the spies attempts to become a pop singer, another a high school student and the other is labelled as a "stupid guy". Beside Park Gi-Woong, there are two actors who also participate in the movie; they are Kim Soo-Hyun and Lee Hyun-Woo.
Since the image shows us the characters of Park with Orange hair, it appears Park will likely be North Korean Spy which is passing of as the singer/idol, not as "the stupid guy" or "the student". So, it also means that those two last characters will likely belong to Kim Soo-Hyun and Lee Hyun-Woo.
Movie SECRETLY GREATLY is based on webcomic "Covertness" by Hun (birthname Choi Jong-Hoon). "Covertness" was first published from published June 30, 2010 to May 4, 2011 on Daum website. Adapted to the movie by PD Jang Cheol-Su, winner of multiple awards for prior film "Bedevilled" and worked under Kim Ki-Duk as an assistant director.
The image stills is from Park Gi-Woong's management company My Name Network (@MyNameIs_Ent), which tweeted the picture yesterday. In the tweet, the company wrote "Park Gi-Woong finished acting for movie Secretly Greatly. Thanks to your interest and support. Hope to expect a lot with Lee Hae-Rang and Park Gi-Woong who comes back with new work."
SECRETLY GREATLY will be released this June in South Korea.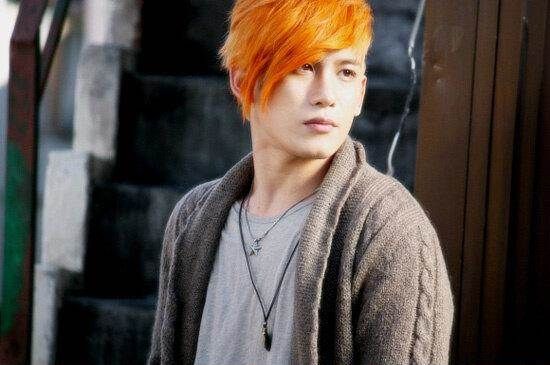 Trend Topic:
park ki woong secretly greatly
,
Park Ki woong Secretly and Greatly
,
secretly greatly characters
,
secretly greatly pic actor park no woong
,
Tags: Park Gi-Woong in Secretly Greatly, Secretly Greatly Character Stills